budget HOSTEL in ISFAHAN ,ISFAHAN HOSTEL, Esfahan hostel,
hostelin ISFAHAN, hostel in Esfahan , Hire house in isfahan , hire apartment in isfahan rent house in isfahan rent apartment in isfahan , find house in isfahan find apartment in isfahan
M

EHR ESFAHAN HOSTEL R

ENTING
(MEHR

)
, esfahan hostel, esfahan hostel,

mehr hostel 

in isfahan, 

 MEHR Isfahan Hostel, hostel in Esfahan , esfahan_hostel
Click on below menue
MEHR ISFAHAN HOSTEL RENTING
It wont be an exaggeration to claim that MEHR Hostel in Isfahan has been the top option for the backpackers heading to this city for years.

Our Hostel is not just a budget hostel
in ISFAHAN
There are very clear factors leading to our hostel's unrevealed popularity;
MEHR Hostel's exceptionally convenient location, the professional service that we offer to our guests , and also you can find the truly warm and international atmosphere at our hostel in Isfahan.
There are clear reasons that would make all our guests admit that the location of our hostel in Isfahan is most convenient.
MEHR Hostel in Isfahan is located at Sheikhbahai Street, which is one of the most famous, most important, and most beautiful street in Isfahan. Our hostel is located exactly in the center of the city and gives our guests very quick and easy access to all the popular tourist attractions in Isfahan;
we are at 15-min walking distance to Naqsh-e Jahan Square in Isfahan comprising The Shah Mosque, Sheikh Lotfollah Mosque, Ali Qapu Palace and also the ancient Bazaar of Isfahan;
we are at15-min walking distance to the awe-inspiring Jameh Mosque in Isfahan; we are at 10-min walking distance to Chaharbagh School; and finally,
we are at 20-min walking distance to Si-o-Seh Pol Bridge. For the guests who for some reason are not interested in walking around the city,
there is a metro station called Takhti Metro Station 250 meters away from our  hostel in Isfahan.
The Unrivalled Location of MEHR Hostel in Isfahan
ENGLISH ADDRESS: MEHR ISFAHAN HOSTEL AFTER ALLEY 13TH IN SHEIKHBAHAI ST ISFAHAN IRAN
PERSIAN ADDRESS THAT YOU CAN SHOW TO DRIVER OR IRANIAN PEOPLE TO FIND HOSTEL


((آدرس: اصفهان شیخ بهایی بعد از کوچه ۱۳(زرگرباشی) نرسیده به دار القرآن ساختمان مهر))
8beds 

room

 2beds

room

 4beds room

 6beds room

price each bed per night

4 €
10 €
7 €
4 €

price

3 €
3 €
3 €
3 €

transfer from airport

2 €
2 €
2 €
2 €

transfer from bus terminal

2 €
2 €
2 €
2 €

breakfast

2-10 €
2-10 €
2-10 €
2-10 €

launch

2-10 €
2-10 €
2-10 €
2-10 €

dinner

80€
250€
210€
100€

Rent per month

(8 a.m-8 p.m)

normal price

transfer

(8 p.m-8 a.m)

double price

transfer
 (SPECIAL DAY OF WEEK MENUE)
| | | | | | |
| --- | --- | --- | --- | --- | --- |
| | | | price | Name of meal | day of week |
| | | | 2€ | Istamboli(mix rice meat and bean) | Saturday |
| | | | 2€ | Cabage fried mix with Rice | Sunday |
| | | | 2€ | Pasta | Monday |
| | | | 4€ | Fish and rice | Tuesday |
| | | | 2€ | Eggplant and split pea | Wednesday |
| | | | 2€ | Fried vegetable with rice | Thursday |
| | | | 3€ | Fesenjoon with rice | Friday |
EVERY DAYS MENUE
| | | | | |
| --- | --- | --- | --- | --- |
|  food |  ghormeh/ |  Chicken with rice | Chicken mixed with rice | Beaf mixed  with rice |
|  price | 2€ | 3€ | 2€ | 3€ |
| | | | | |
Skype: mnokhodian1
telegram:@mnokhodian
whatsapp & mobile: +989133148009
Our new service for long time stay in Isfahan
Renting a furnished house  for one month. our price start from 200 euro
↓↓↓↓↓↓↓↓↓↓↓↓↓

FOR MORE SERVICES

↓↓↓↓↓↓↓↓↓↓↓
isfahan low price hostel,esfahan cheap hostel ,Esfahan hostel

, Esfahan near see sight hostel, accomodatin in esfahan , best price hostel in esfahan,Isfahan hostel, free transport hostel in isfahan  , ,Esfahan hostel   best price hostel in Isfahan , isfahan sex hostel ,isfahan massage hostel,

 esfahan free accomo

dati

on Isfahan free accomodation mehr hostel in isfahan esfahan hotel , Isfahan hostel , isfahan hotel, esfahan hostel , low price hostel in Isfahan , esfahan_hostel Isfahan_hostel Isfahan Hostel isfahan backpacker hostel iran hotel

 isfahan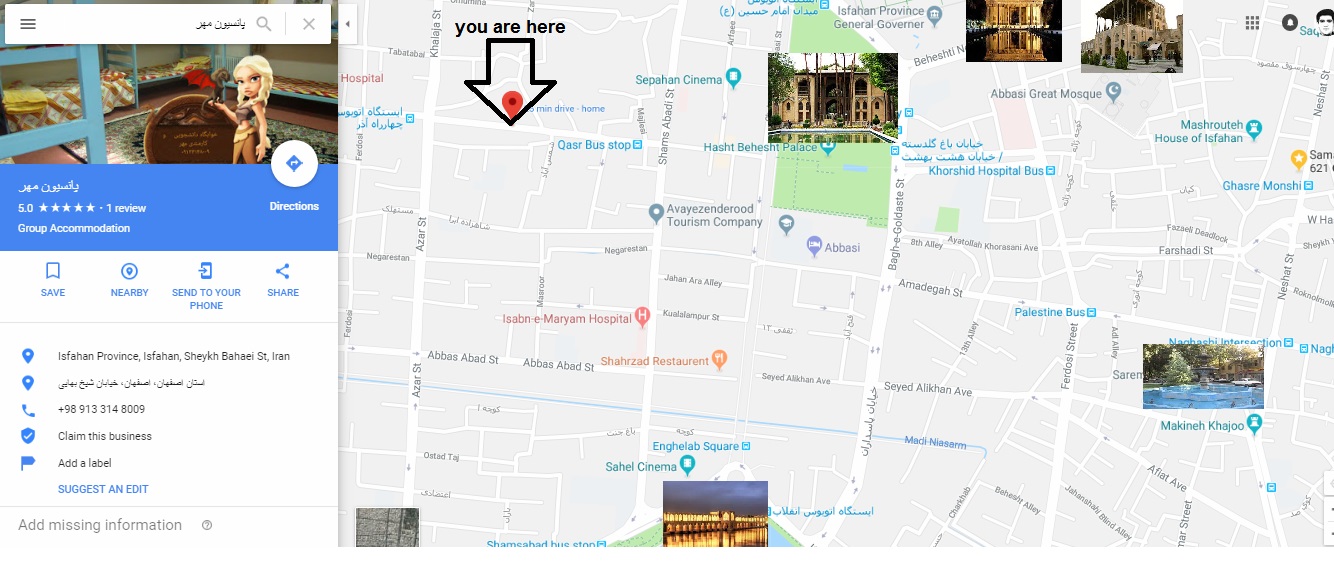 If you want to know more about travelling in IRAN click on the map